Skip to Content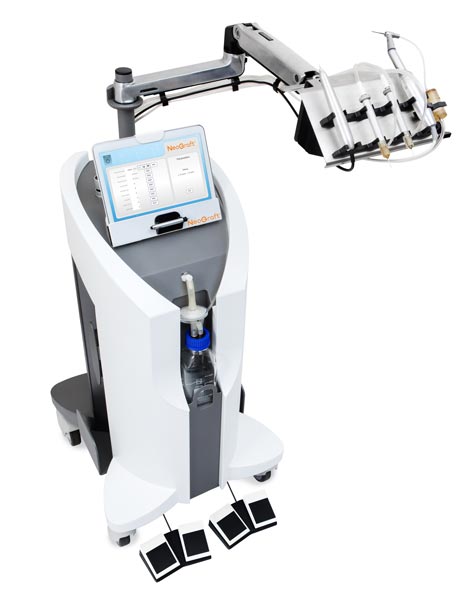 About Neograft® Hair Transplants in Chicago, IL
New Horizons Robotic Hair Transplant Center of Chicago proudly offers patients in Rockford and Chicago, IL Neograft® hair transplant procedures. This minimally invasive hair restoration treatment uses automated Follicular Unit Extraction (FUE) and implantation to transplant hair quickly and effectively. We perform the process by taking hair from the back of a patient's head and replacing it in areas with hair loss. Neograft® devices use specialized technology to remove hair follicles painlessly and implant them in a balding area. The process is quicker than outdated hair restoration methods, increasing the hair grafting procedure's success and giving patients more robust, natural-looking results. You don't worry about linear scarring or lengthy recovery times, and you will see new hair growth within three to four months after shedding.
Determining Candidates for Neograft® Procedures
If you question whether you are a candidate for a Neograft® hair transplant, New Horizons Robotic Hair Transplant Center of Chicago will gladly help you find out. A candidate for this hair restoration procedure will be an individual with hair loss and sufficient hair growth on the back of their scalp to donate to the treatment. Men and women with partial or frontal hair loss and adequate donor hair are the best candidates. We will assess your current hair loss condition and other medical details to give you a conclusive answer to whether a Neograft® hair transplant is the best option for your unique situation.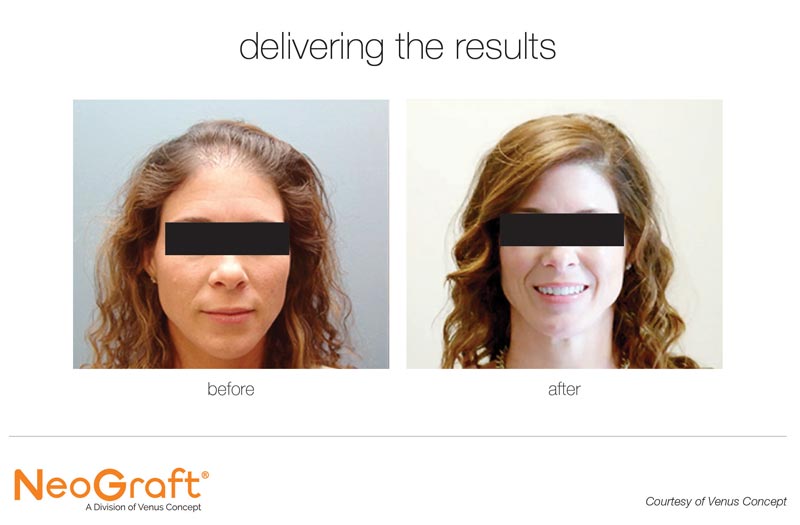 Treatment Recovery Time & Lasting Results
Neograft® hair transplant procedures have a quicker recovery time than other treatment options following a patient's procedure. Transplantation is an ongoing process, and patients must commit time to the process, just like normal hair growth. After shedding, new growth will start within a few months, which is normal and important to the hair growth process. Following that period, your new hair will grow normally and look healthy and natural. FUE procedures are highly successful and can restore your thick, full hairline, but pattern baldness in men and women may continue despite your transplanted hair. If you suffer progressive hair loss as you age and wish to fill in balding areas or add more density, you may need to undergo additional transplants. We recommend consulting with our doctor at New Horizons Robotic Hair Transplant Center of Chicago about your options.
We Have Hair Loss Solutions for Men & Women
New Horizons Robotic Hair Transplant Center of Chicago is ready to restore your hairline without surgery or scars using Neograft® hair transplant technology. We have ample experience treating men and women with pattern baldness and transplanting living hair follicles to give them natural-looking results with shorter recovery times.
Contact Us Today for $500 off Your Hair Transplant Procedure
Is Surgical Hair Restoration Right for You?
Contact us to get answers to your questions.